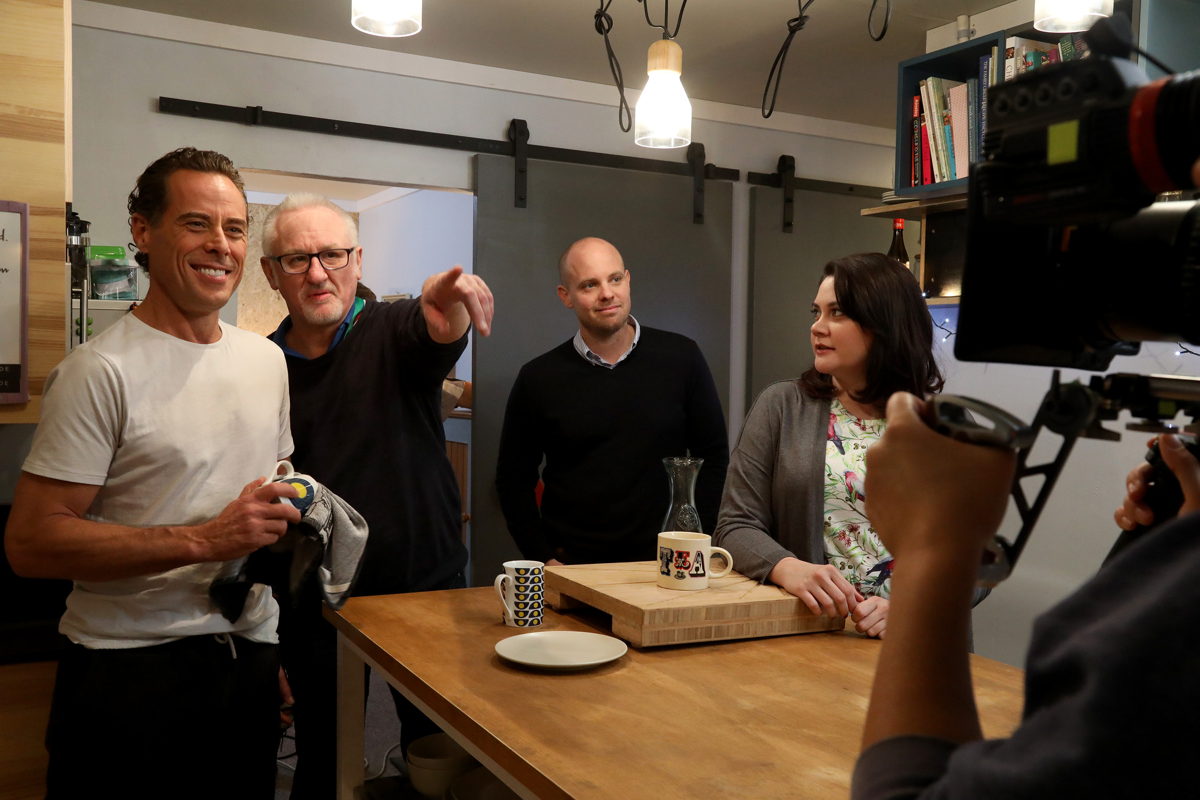 Behind the scenes on ABC's The Heights.L-R: Actor Marcus Graham, James Bogle (DIRECTOR), Warren Clarke (CO-CREATOR), actor Shari Sebbens . Photo by Bohdan Warchomij
Production has begun in Perth on ABC's new 'slice of life' serial drama series, The Heights. Marcus Graham (Secret City, Cleverman) and Shari Sebbens (The Sapphires, Thor: Ragnarok) are just two members of an ensemble cast, guided by a creative team that fosters emerging and local talent and supports the WA television industry.
The 30 x 30" serial drama centres on the inner-city neighbourhood of Arcadia Heights, exploring the relationships between the residents of the Arcadia social housing tower and the people who live in the rapidly gentrifying community that surrounds it. The Heights mines the frictions and commonalities between the upper and working classes in the melting pot of urban Australia.
The Heights is produced by Matchbox Pictures and For Pete's Sake Productions for ABC and developed and produced with the assistance of ABC in association with Screenwest, Lotterywest and NBCUniversal. 
Head of Drama, Comedy and Indigenous for the ABC, Sally Riley said, "The Heights will broach complex social issues faced in the reality of our lives today.
"We're thrilled to support a 30 episode program that is built on a model of bringing together new talent with experienced creatives for a timely new Australian series that is a microcosm for a diverse nation that is continually redefining itself. The Heights will make audiences laugh, think and be emotionally engaged," she said.
The series presents a medley of characters, cultures, classes and backgrounds from the 'tower' community, exploring their relationships, work lives and everyday challenges faced by its characters in an entertaining relationship drama series.
The new series has been created in-house at Matchbox Pictures by Warren Clarke (Mustangs FC) and co-creator Que Minh Luu. Clarke will take on the Showrunner position for the series, which is produced by Peta Astbury-Bulsara (The Marriage of Figaro, Almost Midnight) and Executive Produced by Debbie Lee for Matchbox Pictures and Sally Riley and Que Minh Luu for the ABC. The first season is directed by James Bogle (Whiteley, Closed For Winter, Lockie Leonard), Andrew Prowse (Farscape, Home and Away, Underbelly, Rush), Renee Webster (Marx and Venus) and Darlene Johnson (Stolen Generations).
From the creative team to the cast and crew, The Heights combines established talent with those emerging in the industry. In addition to casting and training many first-time actors, the production will engage a first-time drama director receiving mentorship from director Andrew Prowse, as well as several first-time screen writers contributing to scripts.
As well as providing opportunities for industry newcomers, The Heights will provide a boost to the WA television industry, with the production engaging nearly 100 local crew and casting 93 speaking and extras roles locally, exemplifying the ABC's unrivalled commitment to making significant investment in homegrown content that fosters Australian talent.
International sales will be handled by NBCUniversal Distribution.
Visit www.abc.net.au