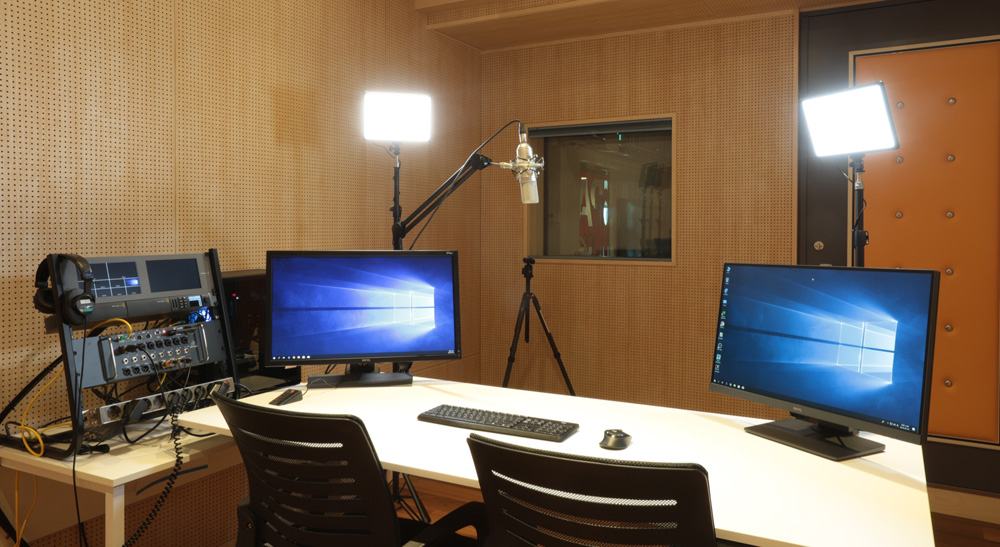 Blackmagic Design has announced that Korea's Bando Camera recently built three live streaming studios using a number of Blackmagic Design products, including a number of ATEM 1 M/E Production Studio 4Ks and ATEM Mini and ATEM Mini Pros. The studios have already been used for a wide variety of streams, including performances by K Pop acts Eric Nam and Ms. Lee Soo Hyun, as well as for programming for Yeosoo City's MBC TV network.
Bando Camera, located in Seoul, Korea, is one of the largest stores for visual imaging related products in Korea. The three new streaming studios are open for rental to any level of streamer looking to do multicam streams, from individuals to large groups. Since opening in late 2019, the streaming studios have been used by some of Korea's biggest pop stars, global corporations and top Korean broadcasters.
The new build includes a large open studio for events, such as mini concerts, and two smaller sound proof booths for individuals. The workflow for the booths include ATEM 1 M/E Production Studio 4Ks and ATEM Minis for video switching and graphics insertions, a Smart Videohub 40×40 router for sharing media across the building and HyperDeck Studio Mini for recording directly from the ATEM switchers. SmartView 4K and SmartView Duo monitors are used by two Bando Camera crew directing the streams, and DeckLink SDI 4K cards and a number of Teranex Mini Converters are used for capture and playback and conversion.
"We have chosen Blackmagic Design's live production solution, including both the larger ATEM 1 M/E and the newer ATEM Mini, as we believed that it could cover comprehensive content production workflow from shooting to post work. In addition, it seemed open to easy system expansion for future," said Mr. Kim, Byung Joon, Head of the New Media Team, Bando Camera. "The ATEMs give us a lot of power, and we are always using it for its chroma keyer and to handle picture in picture effects. And for corporations and TV Stations doing content such as music concerts, the ATEM's multiview feature is essential to check multiple input sources simultaneously."
"The ATEM Mini in particular fit the needs for YouTube creators that are just entering the content creation world. We like the fact that the ATEM Mini can take up to four inputs, takes up a lot of the workloads previously done at the PC's end, and are very portable and quite easy to do streaming right away," he continued.
A number of the first major streaming events that took place in the new large studio saw some of Korea's biggest pop stars performing live sets. This included a live stream by Ms. Lee, Soo Hyun of the K-Pop dua "AKMU," who celebrated passing one million YouTube subscribers with a set of songs from the large studio. Another K-Pop star to live stream was Eric Nam, who performed a full live concert for YouTube.
Yeosoo City's MBC Networks, one of Korea's three largest terrestrial TV stations, has also done a series of live streams at the new studio. In order to ease the burden of celebrities and other guests from having to travel from Seoul to Yeosoo for content creation, MBC began live streaming content directly from the Bando Camera location for their YouTube and Trot Class channels. All of these streams used the full Blackmagic Design streaming workflow with the ATEM 1 M/E Production Studio 4K at the heart of the productions.
"These studios are all built around a Blackmagic Design workflow to provide a high quality, yet compact and user friendly, streaming content creation environment," he continued. "We are now able to provide much easier process to create content for anyone and also it helps to create various content that could fit the taste and interest of each viewer. Even though they have only been available for a few months we have seen all types of creators use the studios including entertainment management agencies using the studio for operating their own YouTube Channels."