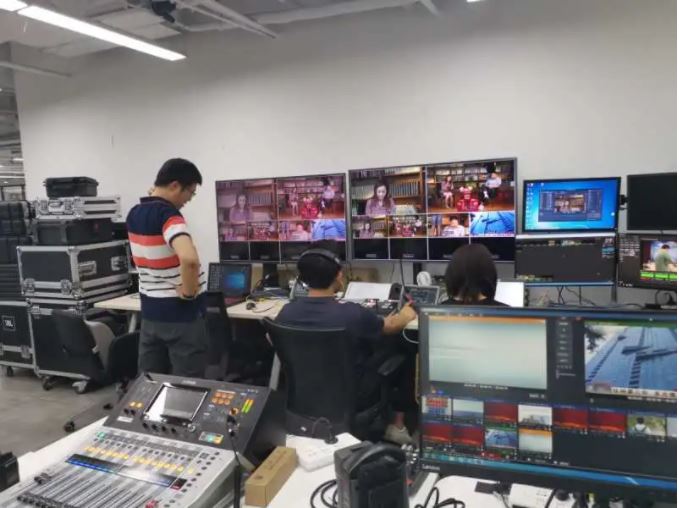 CCTV Pioneer Media & Entertainment CO., LTD (CPEC) (中视前卫影视传媒有限公司), owned by China Media Group, is the largest public service broadcaster in China. Its New Media Department, which includes CPEC's social media efforts, has recently adopted Clear-Com's HelixNet Digital Network, LQ IP Series Interfaces and the Agent-IC Mobile Intercom App to accomplish reliable, clear communication between stations and onsite camera operators for live broadcasts on their social media platforms. The system was provided by Clear-Com partner, Beijing CRT Technology Co., Ltd(北京诚润视讯科技有限公司).
With the assistance of Paul Wu, Clear-Com's Beijing-based Applications Engineer, and Haoran Zhai, Technical Engineer for Beijing CRT Technology, CPEC's New Media Department was able to use the new system for a remote production at the Beijing World Art Museum about an art exhibition entitled, "Dunhuang Mogao Cave," about the historic Mogao Caves in Dunhuang, China. Some team members were located at the Museum, while others remained onsite at the CPEC Media Center, but the two locations needed to communicate as if they were in the same room in order to produce a successful live broadcast across their social media platforms.
"During the live production, the communication between production members was stable, clear and crisp," said Zhai.
The members at the exhibition had all downloaded the Agent-IC app onto their mobile devices, while the HelixNet digital main station, three desktop portable remote stations and three LQ Series devices had been deployed in CPEC's Media Center. HelixNet could connect to the three LQ devices via secure LAN, WAN or WiFi, which enabled all fixed points to communicate with the 24 remote Agent-IC users.
"In addition to using the system in this way," explained Yuija, "it is also very flexible and be configured in any way we may need."
"If they need to be producing four programs at once for their social media platforms, they can have a channel for each Technical Director (one at each fixed point), who can then communicate with six remote Agent-IC users, while the other Technical Director communicates with their team of six and so on, without any interference," said Zhai.
LQ can be deployed as an individual wireless solution in a given communication zone by connecting the LQ's IP port to a wireless router – which in effect creates a wireless LAN. Users are then provided with full-duplex two-way interconnectivity between Agent-IC mobile apps within a Wi-Fi covered zone. Additionally, communication between wired analog devices and wireless Agent-IC mobile devices can be achieved by connecting a partyline main station to the LQ interface's 2-wire port, as was done in the remote production at the Beijing World Art Museum. Technical Directors can then be provided an analog main station or Agent-IC for communication.
LQ Series devices have multiple functions to give any communication operation incredible flexibility. LQ can convert traditional 2-wire and 4-wire audio signals into IP and vice versa. Because of this capability, analog audio transmissions can be delivered across entire cities using LAN and WAN networks. Moreover, the LQ supported mobile app Agent-IC can easily be integrated into any intercom system. Each LQ device can support eight Agent-IC mobile apps through licensed use.
"The Clear-Com system has greatly contributed to our live broadcasts for social media, and the new equipment also allows our other diverse activities operate smoothly," concluded Yuija.
Visit www.clearcom.com