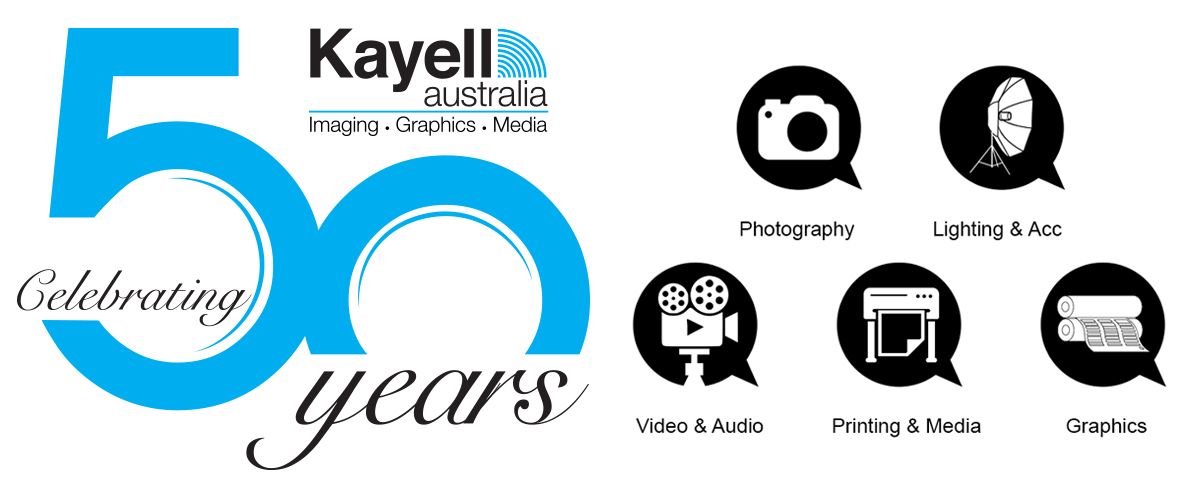 Kayell Australia is celebrating a landmark 50-year milestone Commemorating 50 years in business providing professional imaging solutions
This year, Kayell Australia celebrates a momentous 50 years in business providing a one-stop-shop for the Digital Imaging, Video & Audio, Fine Art Inkjet Printing and Graphic Art industries.
From its humble beginnings that focused solely on still photography and professional photo labs, Kayell has grown to be a leading supplier of the latest technologies in new growth markets.
Co-founders, John Koens and Hans Leijer, created the name "Kayell" back in 1970 using the first letter of their surnames. They began trading from small premises in Druitt Street, Sydney and within a few years managed to acquire a number of important agencies for the photography, darkroom and laboratory divisions.
After forging exclusive relationships with further professional suppliers and agencies, a Victorian showroom was established in 1973, followed by a Brisbane showroom a few years later.
Kayell's success was evident when they became the first professional product distributor for Kodak in Australia. It was not long before Ilford, Fuji, Polaroid and Agfa followed and were marketed by Kayell through the Big Five Incentive Program.
By the early 1980s, a number of overseas manufacturers appointed Kayell to distribute a range of amateur products to photographic retailers in Australia. Seizing a business opportunity, an Amateur Products Sales Division was established which represented 30 percent of total sales for the company within a few years. This increased business resulted in a relocation to larger premises in North Ryde, north-west of Sydney in 1981.
In 1992, Kayell became part of Hagemeyer, an international trading company. After four years together, the Professional Products Division of Hagemeyer was offered as a buy out to the three Kayell State Managers.
A new business was born – Kayell Marketing became the importer / wholesale company and the three Kayell state companies became exclusive distributors. Three years later, the Kayell Marketing products were shared between Adeal and Kayell Australia. The Kayell NSW operation then took control of Kayell Victoria and relocated staff to Brisbane in 1999.
By this time, digital technology was coming of age with the release of the Kodak DCS range and the eagerly awaited Nikon D1. After brainstorming new business opportunities in 2001, Kayell collaborated with US experts, Pixel Genius, as they moved into workflow and colour management solutions. Overnight, they also became the largest Epson Pro Graphics dealer in the country.
Following Kayell's success in colour management, inkjet printers and consumables, Kayell was looking to continue its growth strategy. This resulted in the establishment of a Graphic Arts Division closely followed by a Video and Broadcast division which quickly grew the company into the leader it is today in the professional markets.
After joining the company in 1993, Robert Gatto was appointed Kayell Australia Sales and Marketing Director. After the retirement of Johan du Preez, Rob was appointed Managing Director in 2009 and has continued as their committed leader to this day.
In 2009 Epson Australia representative, Andreas Johansson, joined Kayell as a director and head of the Graphic Arts Division after being in the industry for more than 30 years, Mr Johansson said: "After seeing Kayell from the 'outside' while working at Epson, I knew joining this exceptional imaging solution provider would be a positive move. Eleven years on, my decision was definitively the right one!"
Mr Gatto said: "It has always been a privilege to be part of Kayell Australia and to represent a company that has been in business for 50 years. It is a rare feat these days, but I feel our culture of service and solutions has helped preserve and maintain our strong position in the marketplace.
"Our dedicated staff is the heart and soul of our strong and innovative company, adapting to changes in the market and continuing to make it the success it is today. We also have a bank of professional suppliers who strive to develop new technologies that enable us to be at the forefront of our business.
"And of course, it's our loyal customers that motivate and drive us to meet their every need. We pride ourselves on delivering a standard of service that is second to none and look forward to continuing to meet their needs for many years to come," Mr Gatto said.