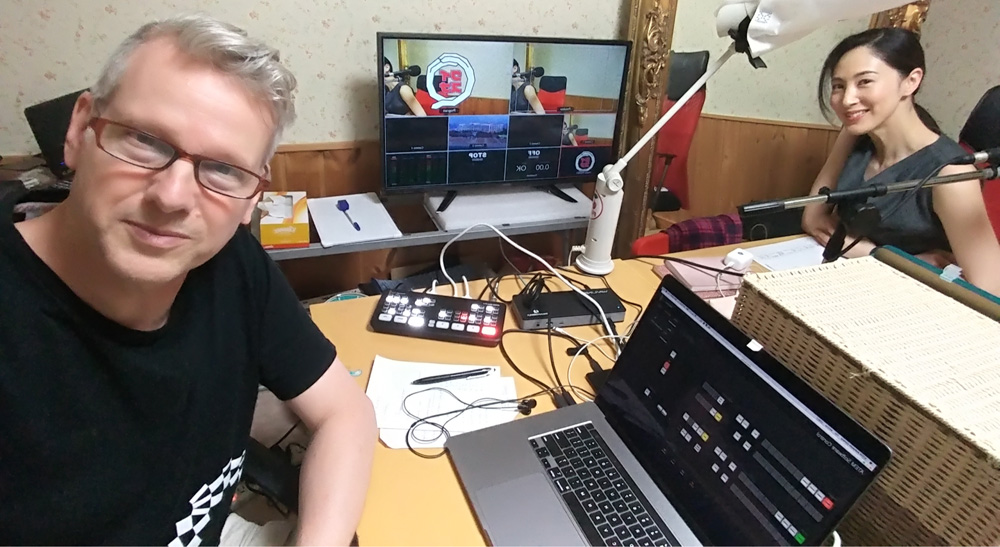 Blackmagic Design has announced that its ATEM Mini Pro live production switcher is being used to power the recently premiered interactive talk and quiz show, "Quizuna." The show, which is the first of its kind on YouTube in Japan, is hosted by Japanese Hollywood actress Ikumi Yoshimatsu and airs several times a week on her YouTube channel, "Ikumi's Voice."
The idea for the show emerged when Yoshimatsu and her partner and producer at RIM Entertainment, Matt Taylor, were quarantined in Tokyo. The duo decided to create a live talk and quiz show that would allow viewers to interact and feel connected with others in an entertaining and educational environment. "Quizuna," inspired by the Japanese word "Kizuna" which means "to bond," features live remote interviews with prominent figures from around the world covering current topics followed by a viewer participated quiz. Winners are sent gifts and care packages.
"When we started thinking about the gear needed to make this show happen, we knew a powerful live production switcher would be required," said Taylor. "After doing our research, we determined the ATEM Mini Pro was the perfect solution because of its features and affordable price. Exactly ten days after we unboxed the ATEM Mini Pro, we were able to go live with our first show. That's how easy it was for us to use."
"I've worked on similar projects in the past, but the tools made me a little bit nervous because the reliability wasn't always there. However, with the ATEM Mini Pro and the powerful ATEM Software Control, I don't have to worry about stability at all," added Taylor. "The flexibility of streaming the show directly from the ATEM Mini Pro via Ethernet or pushing it out via the USB output depending on what segment we're working on is remarkable. Additionally, the ATEM Software Control and multiview are truly incredible."
The ATEM Mini Pro's ability to directly record the streams proved essential for "Quizuna's" workflow.
"Being able to directly record camera inserts and add them in ad hoc has made production extremely efficient. I can switch in elements that I've pre edited, as well as ones that I edit in real time during the show," noted Taylor. "Conducting live remote interviews in different languages sometimes requires retakes on the fly for a quick edit or insert. With the ATEM Mini Pro, I'm able to stop an interview mid conversation, record a correction and get it punched in before anyone even notices since we have a very short delay window."
With very limited space and resources, the ATEM Mini Pro's compact size and design also proved extremely helpful. "We are able to plug three cameras and one MacBook Pro directly into the four standards converted HDMI inputs and stream out uninterrupted without needing additional converters and adapters," added Taylor.
While still in Tokyo, "Quizuna" continues to gain momentum for Taylor and Yoshimatsu.
"Once we're able to fly home to Los Angeles, I'm excited to use the ATEM Mini Pro for future projects, some of which will be even bigger productions," Taylor concluded. "The more that we've used the ATEM Mini Pro to live stream 'Quizuna,' the more I've realized how powerful it truly is!"
Visit www.blackmagicdesign.com