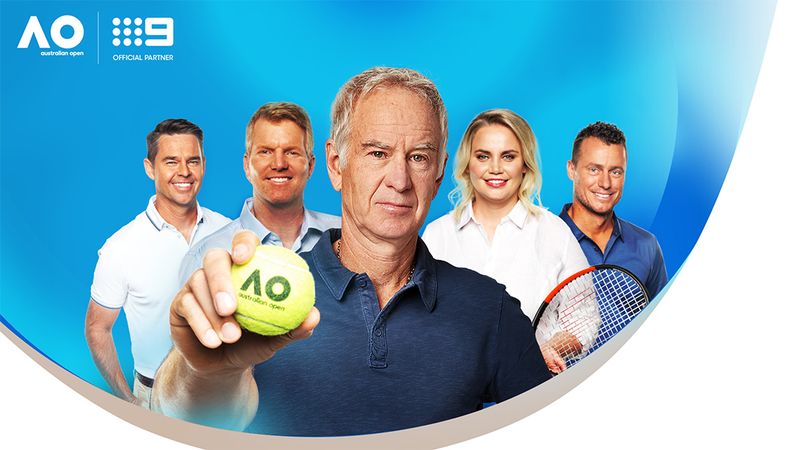 When the Australian Open begins on January 14, Nine will be the new home of tennis, with the tournament's best matches and biggest moments broadcast across Nine, 9Gem and 9Now. A fresh lineup featuring Rebecca Maddern, James Bracey and Tony Jones will host Nine's new-look tennis coverage.
They will be supported by an all-star roster of commentators, including John McEnroe, Jim Courier, Sam Smith, Todd Woodbridge, Lleyton Hewitt, Alicia Molik, Jelena Dokic, Sam Groth and Dylan Alcott.
For its inaugural year as host broadcaster of Australian tennis, Nine will be unveiling a host of pioneering innovations designed to make the game even more enjoyable for home viewers.
In an Australian first, the network will be using 360-degree, Matrix-style cameras: immersive video technology that positions cameras right around the court to simultaneously capture every angle. The resulting vision will give viewers a panorama-like experience of the world's greatest tennis players in action.
In another Australian television first, Nine is using cutting-edge Viz Libero technology which combines realistic 3D replays with advanced virtual graphics, giving viewers insight into controversial or tactically interesting moments of play and bringing a unique perspective to the game. This innovative technology will track player actions, analyse their errors, and predict their future movements.
Nine's broadcast will, for the first time at the Australian Open, employ the use of a Wire-cam to provide never-before-seen shots of Melbourne Park and its surrounds. Running almost 270 metres from the roof of Tennis Australia HQ, over Garden Square, towering across Show Court 3 and onto the outside courts beyond, Wire-cam will provide unparalleled footage of the world's greatest tennis facilities and their scenic backdrop.
With the ability to shoot from every angle, viewers will be treated to remarkable vision which will showcase the 40 courts at Melbourne Park, while providing a bird's-eye view of the stunning backdrop encircling the tennis precinct.
Central to Nine's new approach to tennis broadcasting will be a half-court that doubles as the network's hosting set. Located near Margaret Court Arena, this outdoor studio will welcome tennis fans to Melbourne Park as they enter the precinct.
As well as providing the backdrop to its hosting of the Australian Open, the set will be home to the Today show team, who will broadcast LIVE from Melbourne Park each day from January 14.
The half-court that adjoins the hosting desk will be equipped with Hawk-Eye technology so commentators can take viewers through step-by-step analysis for each day's play.
When not being used as a live television studio, the half-court will be open to the public, bringing the game closer to fans than ever before. Tennis enthusiasts can have their service speed measured on the half-court. Fans will be able to play half-court tennis against their friends.
Players will also conduct pre and post-game interviews on the half-court, with the public able to watch on. 
In addition, a giant screen positioned in the half-court will showcase Nine's broadcast, providing general admission punters with a front-row seat to the premier matches.