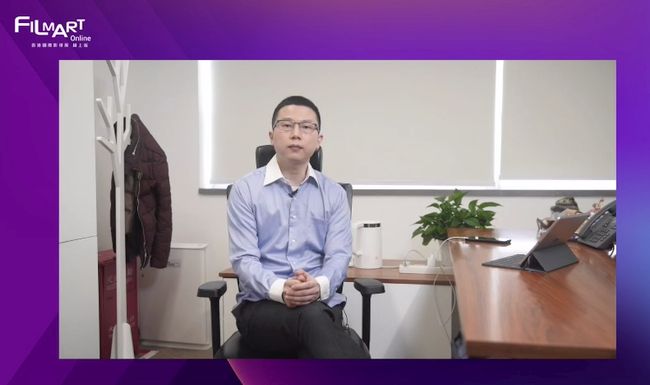 Organised by the Hong Kong Trade Development Council (HKTDC), the HKTDC Hong Kong International Film and TV Market | Online (FILMART Online) has reported nearly 7000 industry participants from 81 countries and regions over four days, with the release and promotion of some 2200 film and television productions. Having become more familiar with doing business through online platforms, exhibitors and buyers used the online meeting function at FILMART Online to participate in more than 2000 meetings.
During the conference, Kaichen Li, Head of Tencent's WeTV and iflix (pictured), revealed developments in over-the-top (OTT) programming.
"We have spotted early signs of an upward trend for Chinese and Thai content," he said. "For Chinese content, it's not only the costume dramas but also modern dramas that have resonated well with the Asian audience. We believe that we are going to see a continued boom in Asian local content."
Ali Hussein, CEO of OTT platform Eros Now, said that the streaming media business should not focus on purely being transactional. Rather, it should seek to identify the culture for each brand, which is very important once brands start working at a slightly higher level. He explained that Eros Now will launch English-language services in the second half of 2021, in addition to its content with ErosSTX. The company is also working with other content providers across the globe which will give it a more widespread network and allow it to optimise its customer base.
The FILMART Online platform will remain open until 18 May. During this period, industry members can continue to make use of the different features of the platform to connect with exhibitors and buyers and also review the content of previous events.