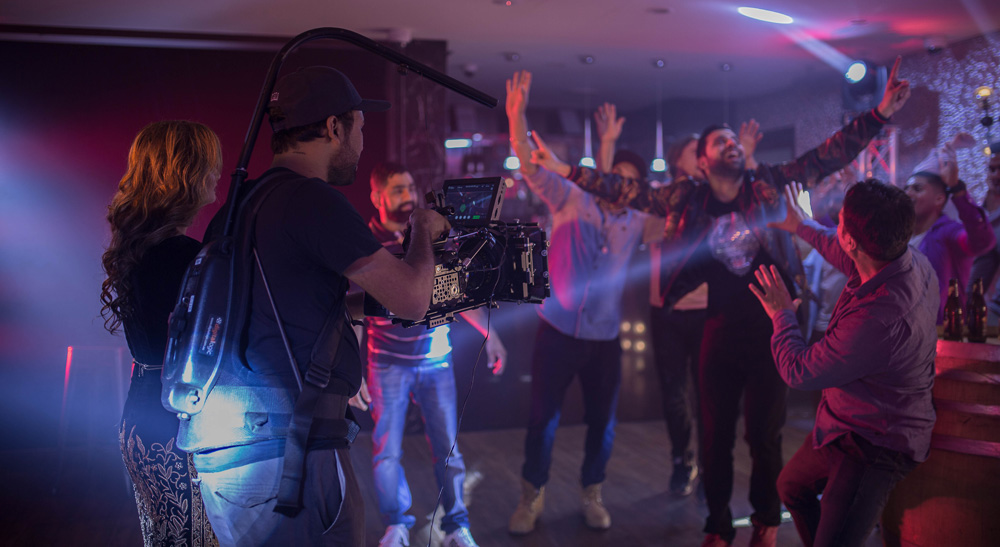 Blackmagic Design has announced that DP Rah Sharma shot the music video for the new popular song "Sharaab" by Ash using its URSA Mini Pro digital film camera and Video Assist 4K monitor/recorder. Rah also used a DaVinci Resolve Mini Panel and DaVinci Resolve Studio to complete color correction on the video.
Ash is a Sydney, Australia-based Punjabi singer and has quickly become one of the most popular Punjabi singer/songwriters in Australia, India and Nepal. His videos have been viewed by millions of people around the world, and his latest song and music video, "Sharaab," has been viewed millions of times since its premier in December 2017.
Rah is a Sydney-based DP who works on corporate videos, music videos and films, including a number of Indian and Nepalese films and music video productions. After shooting the new Nepalese horror film "Sunkesari" using the URSA Mini Pro, Sharma moved to shooting "Sharaab" that was distributed by Lokdun, and he knew the URSA Mini Pro would again be the right choice.
The music video follows four friends and a love triangle that forms between two of them with a woman at a club. Told in three flashbacks, the video mostly includes brightly lit, crowded dance floor and club scenes. One of Rah's passions is creating mood lights on set to provide unique visuals, and the "Sharaab" video gave him the perfect opportunity to combine that passion with shooting high quality 4K footage using the URSA Mini Pro.
"Punjabi music videos always tell a story, and Ash had a very specific and exciting story in mind that took place in a dance club. It was a mix of moving wide and up close shots with dramatic dance lighting throughout. The URSA Mini Pro's high dynamic range and internal ND filters were perfect for handling the quickly changing lighting I wanted to use," said Rah Sharma.
"I was constantly moving with the camera, and as anyone who has been in a dance club knows, the amount of light changes constantly depending on where you are and how the lights are moving during a song. I knew the amount of data I was getting with the URSA Mini Pro's dynamic range would give me the freedom to go where I needed for the shot and still get all the details," he said. "The internal ND filters in the camera are a life saver in changing light situations. I love being able to use the different combinations of aperture and shutter angles to work in any type of lighting, which in the end gave me a lot of freedom with lighting for 'Sharaab.'"
Rah shot the music video at ISO 800 and in ProRes HQ to help quickly transfer data in order to meet the shoot's tight two day schedule. He also used a Video Assist 4K monitor/recorder during the shoot to allow him more freedom of movement around the dance floor.
"The design and balance of the camera and the Video Assist 4K were great. The set was crowded like in any small club, but I also had to deal with watching out for cables and keeping numerous actors and actresses in frame. The flow of the video had me moving between close up shots of actresses dancing to wide shots, so I relied on the Video Assist 4K to see the bigger picture as well as give me amazing views of what each shot looked like," he said.
Visit www.blackmagicdesign.com