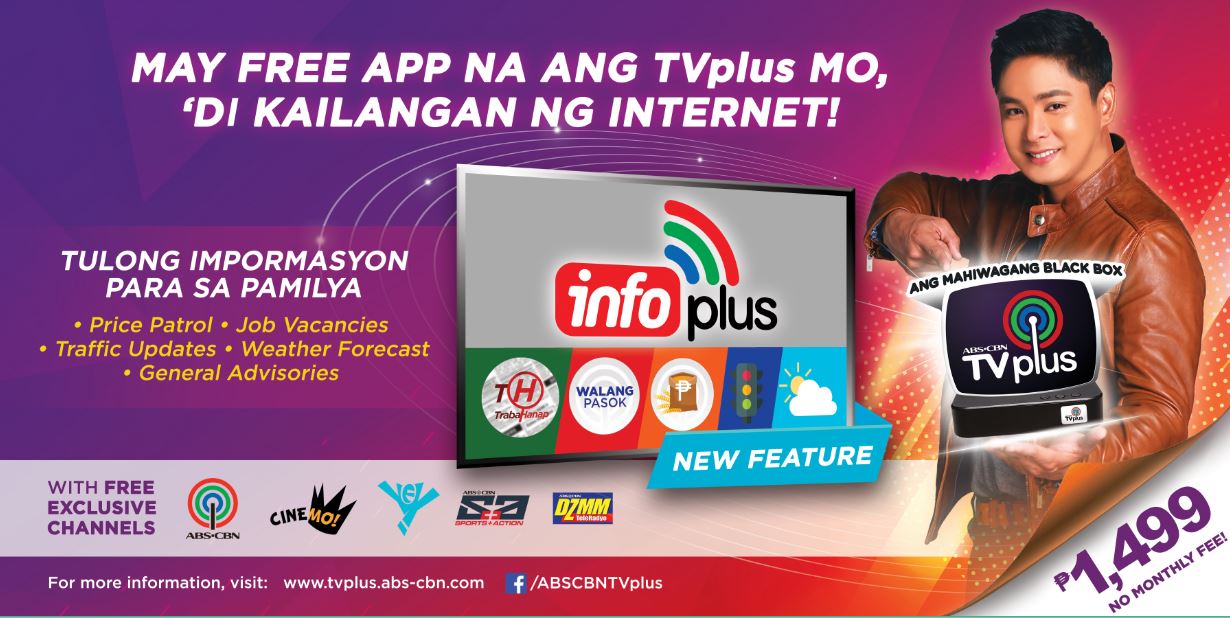 ABS-CBN TVplus users in the Philippines now have access to information such as news advisories, disaster alerts, traffic updates, weather bulletins, and even job alerts, as it launches a new public service feature called INFOplus that will is available on TVplus boxes starting July 30.
TVplus has joined forces with PAGASA (Philippine Atmospheric, Geophysical and Astronomical Services Administration), MMDA (Metro Manila Development Authority), and NDRRMC (National Disaster Risk Reduction and Management Council) to give real-time updates on weather, traffic, and disaster. 
Advisories such as announcements on work and class suspensions, and price of commodities, meanwhile, will be provided by ABS-CBN News, while job alerts will be delivered by TrabaHanap.
 Users can also check TVplus updates and the weekly KBO (Kapamilya Box Office) schedule via INFOplus.
Filipino households with no internet connection can access all of these information for free by simply pressing the red button on their TVplus remote. TVplus uses Japan's Integrated Service Digital Broadcasting-Terrestrial (ISDB-T) transmission standard. 
"Digital TV is not just about providing crystal clear reception. For ABS-CBN TVplus, it is also about making our users informed with important and helpful information without additional costs," Charles Lim, ABS-CBN head of Access said.
INFOplus adds to ABS-CBN TVplus' previously launched public service feature, the built-in emergency warning broadcast system (EWBS) that delivers safety alerts and tips on how to stay safe when disasters like earthquakes strikes. More information about INFOplus will be announced soon. 
ABS-CBN was the first Filipino media and entertainment company to make the switch to digital terrestrial television when it launched ABS-CBN TVplus in 2015. It has now sold 8 million boxes as of July 2019.
Visit https://www.abs-cbn.com