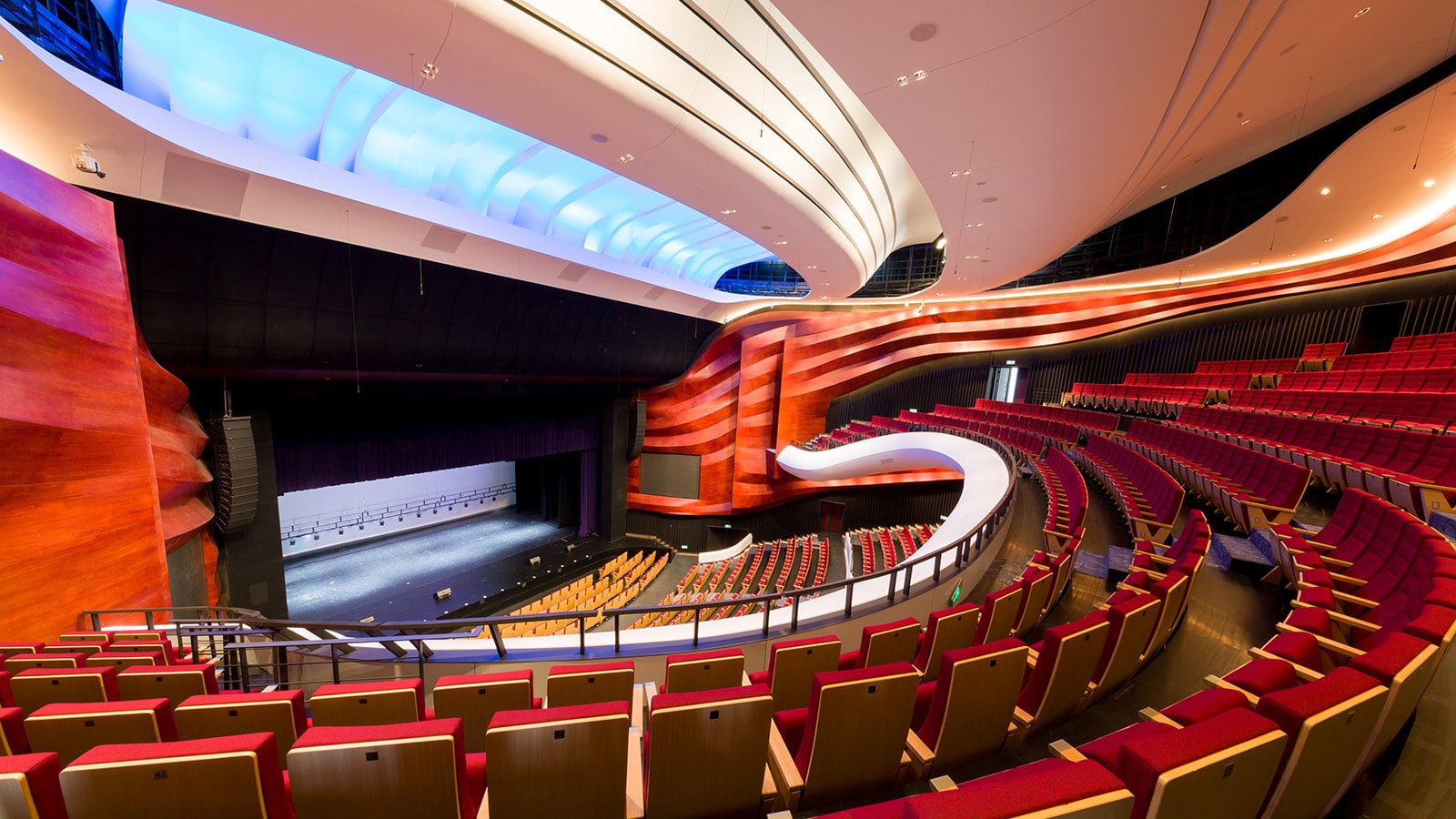 Nine Trees Shanghai Future Art Centre, opened to the public in late 2019, is the new crown jewel for arts and culture in China's most populous city. Located in the city's Fengxian District and nestled deep in a forest preserve, the Centre's organically inspired structure houses three theatre spaces equipped with Meyer Sound audio reinforcement systems. The largest auditorium also claims the first Constellation active acoustic system in China.
The Centre was conceived from the outset as a focal point for a wide spectrum of arts and entertainment performances, hosting both Chinese and international artists representing the global diversity of music, drama and dance. The task of designing and constructing venues suited to this brief was undertaken by Shanghai's EPC (Engineering, Procurement and Construction) agency, led by General Counsel Le Shengli and with lead technical assistance from Zhu Shijie, theatre director for the EPC.
The project principals surveyed a number of newer theatres in China and overseas, and soon determined that an active acoustic solution would best accommodate the desired diversity of performances. After evaluating available systems, they narrowed their focus to Constellation and initiated consultations with Meyer Sound's Chinese distributor, Shanghai Broad Future Electro-Technology, Ltd.
"Constellation offers greater flexibility and convenience for future operations," says Zhu Shijie, "and accommodates a broader spectrum of show programs. Also, when comparing to the alternatives, we thought that Constellation could bring over a purer and more involving listening experience than what the others could offer."
To confirm their decision, Mr. Le and Mr. Zhu traveled to the Meyer Sound headquarters in Berkeley, California to experience Constellation's acoustical capabilities firsthand in the Pearson Theater and also to see how Constellation's software, hardware and human design elements are seamlessly integrated. "This experience redefined my understanding of what an active acoustic system really is," comments Mr. Zhu, "and explained the critical importance of precise installation to the success of the project."
Constellation is installed in the main theatre, which accommodates 1,200 patrons on two levels. The balanced physical room acoustic, with a reverberation time of about 1.2 seconds, can be enhanced with times up to about seven seconds. In addition, the subtle characteristics of the reverberation envelope can be altered by adjusting the warmth, strength and brightness. During commissioning and tuning, 11 presets were created for different performance requirements, with additional presets open for future needs.
The desired acoustical characteristics are created via a total of 160 self-powered, full-range loudspeakers (Ashby-5C, Ashby-8C, UPM-1XP, and UPJunior-XP) mounted laterally and overhead, with the lowest octaves reproduced by 16 compact subwoofers (12 UMS-1XPSM and four MM-10XP). To capture the acoustic ambience, 56 miniature condenser microphones are distributed throughout the space. In between the microphones and loudspeaker output, a D-Mitri digital audio platform comprising 21 modules provides the sophisticated DSP and matrixing, with five modules — one for each reverberation zone — dedicated to hosting the patented VRAS acoustical algorithm. The theatre's 30 meter-deep stage is served by a dedicated Constellation zone functioning as a virtual acoustic shell.
For direct sound reinforcement, the main theatre provides a system anchored by dual arrays of 13-each LEOPARD line array loudspeakers, with deep bass from four 1100-LFC low frequency control elements. Also deployed as subsystems for fills, delays and foldback are a total of four UPQ-1P, two UPQ-2P, two UPM-1P and 14 MM-4XP loudspeakers along with six MJF-210 stage monitors. Mounted over the proscenium — concealed behind a scrim — is a left-center-right system configured with 12 JM-1P and four UPQ-1P loudspeakers for, respectively, far- and near-field coverage. Three GALAXY 816 processors enable system drive and optimisation.
Since opening, the Constellation system has been used for a variety of performance genres, including symphony orchestra, drama and musical theatre. The results, according to Operating Technical Manager Li Yiting, have been uniformly excellent.
"In addition to the available acoustic presets, we can fine-tune the parameters to suit the needs of the performers," she reports. "We conclude that the operation of the system is stable, responsive, naturally reverberating and comfortable sounding. More importantly, you can't perceive that the reverberation comes from electroacoustics. The best way to put it is that the applause from the audiences and the response from the performers demonstrate their satisfaction with the system."
Regarding the LEOPARD-based reinforcement system, Ms. Li comments that "though it is relatively compact and lightweight, it has tremendous power. It not only sounds clean, but it also enhances the intelligibility and clarity of the sound."
The two smaller venues in the complex also are furnished with Meyer Sound reinforcement systems. The 500-seat multi-functional theatre relies on a system based on 12 LINA line array loudspeakers and six 750-LFC low-frequency control elements that can be flown or ground stacked as needed for the event at hand. Completing the system here are two UPA-1P loudspeakers, six MJF-210 stage monitors and a GALAXY 816 processor. The 300-seat theatre is covered by two CAL 64 loudspeakers with advanced beam steering for the main system, augmented by two 750-LFC elements, two UPJ-1P loudspeakers, six MJF-208 stage monitors and a GALAXY 816 processor.
Summing up the supporting role of the new technologies, EPC General Counsel Le Shengli says, "The goal is to make the theatres more international, more iconic and more artistic. We aim to make Nine Trees Shanghai Future Art Centre a place that belongs not only to the Fengxian District but to all of Shanghai and, more importantly, a home for artists from throughout the world."
Overall design of the entire Centre was by the French firm Frederic Rolland International, with theatre design by Thomas Yee of San Francisco-based STUDIOS Architecture. Physical acoustics for the theatres — optimised for Constellation in the main auditorium — were designed by Joseph Myers, president of the renowned Kierkegaard acoustical consulting firm.
Visit https://meyersound.com/