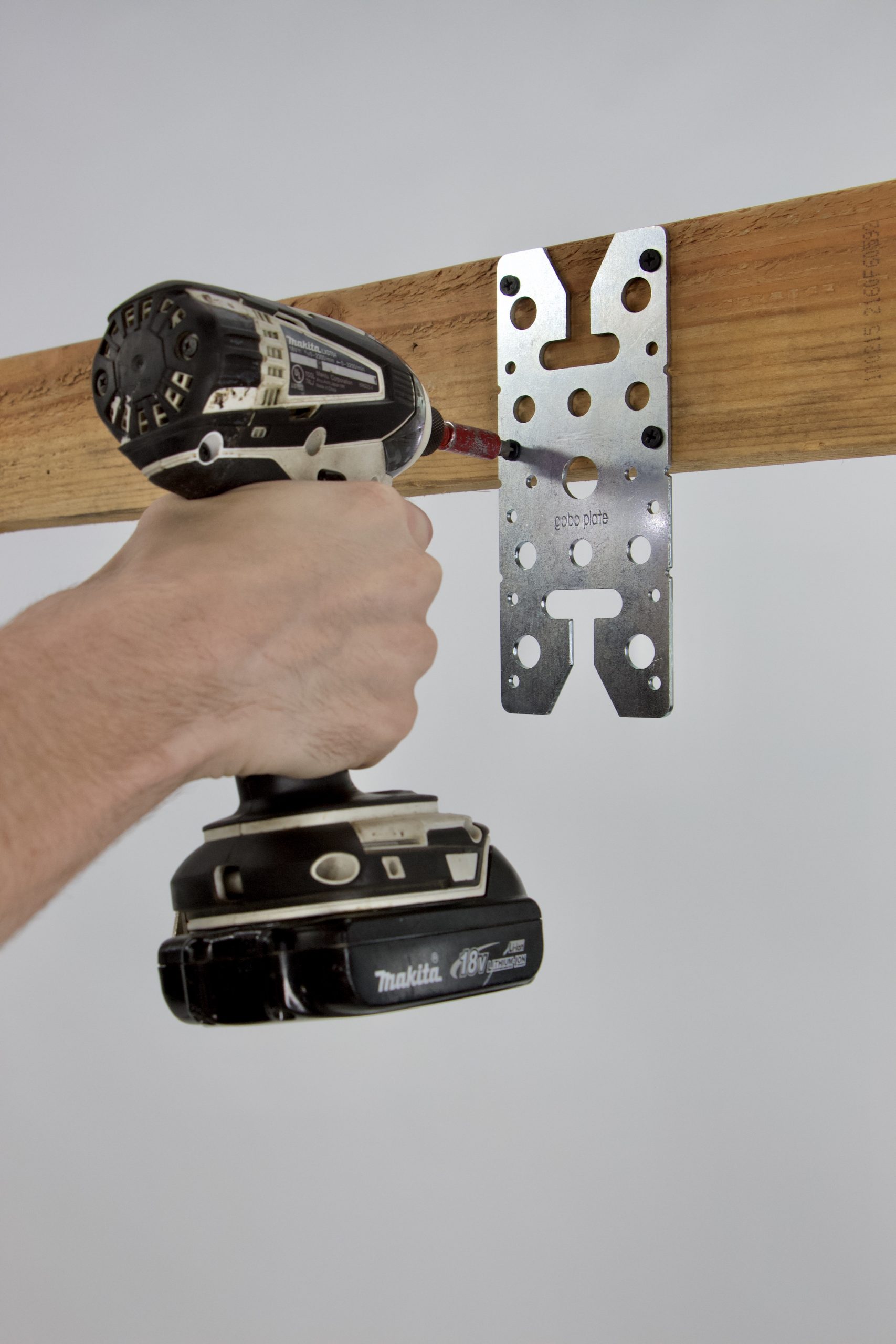 Matthews Studio Equipment has solved another real world issue with the new Gobo Plate. The versatile mounting adapter offers a quick, practical and inexpensive solution that's sure to save time and energy when attaching various grip equipment, on set and on location.
From camera equipment as well as stands, heads, and accessories to building materials like lumber, plastic and metal, Gobo Plate solves a wide array of mounting needs. Designed to interface with any industry standard 2.5" grip head, Gobo Plate offers 25 thoughtfully spaced holes for bolting on pins, ball heads and other camera accessories as well as circular cutouts allowing the plate to be screwed or nailed to lumber, apple boxes, overhead beams, set walls or more. Mounted to stand risers and cart legs, it can add efficiency and versatility to any setup.
Gobo Plate was invented when professional photographer Mike Bradley occasionally needed an overhead beam in his studio. He didn't want to invest in a truss so he struggled with placing a 2×4 on stands and used a multitude of grip gear to attach it. But he required crew for set up and even then, never felt it was safe. He solved the dilemma by designing a metal plate that would bolt or screw to the 2×4 and connect directly to a C-Stand. "That was just the start," he says, "After I started using it, I found myself grabbing it for other setups, and modified it more as time went on until it became the single most go-to grip product in my studio." When he ran it by the grips at MSE, they loved how well the solution integrates with the rest of their grip equipment and agreed to manufacture it to top industry standards in their Burbank factory.
Gobo Plate is machined out of a single sheet of steel that's about 1/8" thick. It measures 3"/76.2mm by 7"/177.8mm, and weighs 8.15-oz/.23 kg. A center cutout allows pass through of a 5/8-inch rod or baby pin while a variety of medium holes provide pass through for a 3/8-inch bolt. Numerous small holes accommodate standard nail and screw diameters. At each end T-slots with V centering secure quick grip head mounting. There are also corner safety carabiner lanyard mounts to safeguard a grip head.