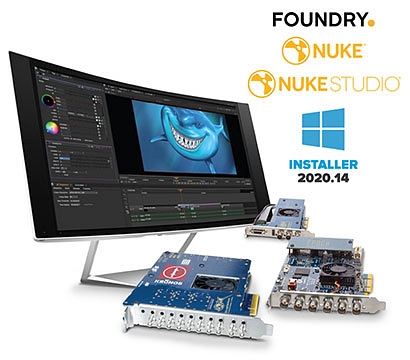 Bluefish444, the manufacturer of  uncompressed 4K SDI, ASI, Video Over IP & HDMI I/O cards and mini converters, has announced support for Foundry Nuke and Nuke Studio 12 in its latest 2020.14 Windows Installer for KRONOS K8 and Epoch hardware.
Bluefish's K8 video I/O card and the entire Epoch range now support 2K/HD/SD-SDI playback within Nuke and Nuke Studio 12, giving post-production 2D/3D compositing and visual effects professionals access to the high quality associated with Bluefish video cards.
With the K8 and Epoch video cards, Nuke and Nuke Studio 12 now have access to the highest quality SDI playback with proprietary 12-bit processing, supporting both RGB and YUV colour spaces. Currently supporting 2K/HD/SD video modes. Bluefish will continue to work with Foundry to update support for the Nuke and Nuke Studio products and will be integrating 4K/UHD support in a forthcoming installer update.