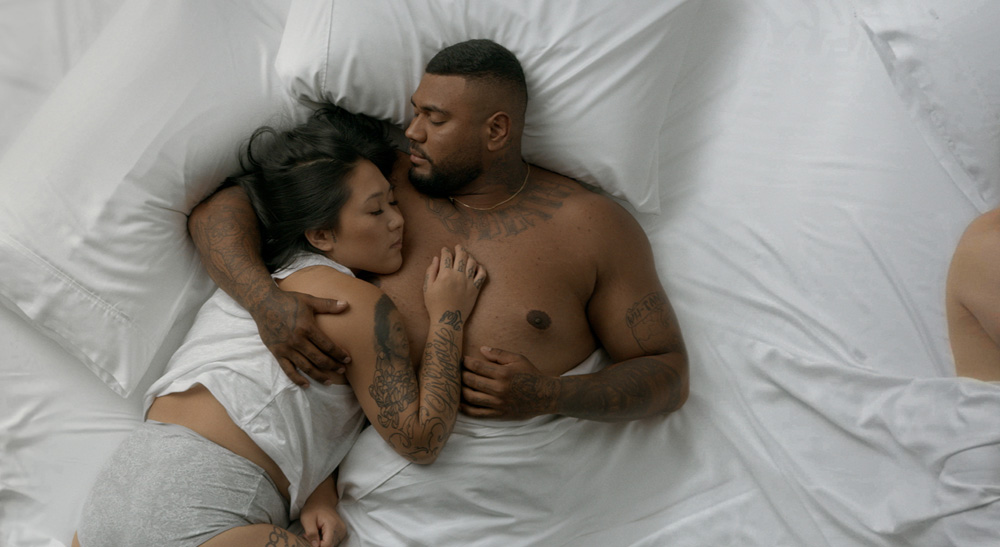 Blackmagic Design has announced that Koala Furniture's new commercial campaign for its new Koala Mattress was shot on URSA Mini Pro 12K. The commercial was shot completely on the URSA Mini Pro 12K using Blackmagic RAW, with post production done using DaVinci Resolve Studio for collaboration and colour correction.
Koala Furniture is one of the fastest growing global furniture chains and has a mission to become the smartest way to buy high quality furniture online. To produce their new advertising campaign, they chose Sydney-based Eight Productions along with Brisbane's The Empire Post for post-production.
Paying homage to the Vincent Desiderio painting "Sleep" and Kayne West's "Famous" music video, the commercial shows a range of people and a dog all comfortably sleeping on their Koala Mattresses. Like the "Famous" music video, the commercial begins with a close up of a single sleeping person and then slowly pulls out to encompass every person in an overhead shot. Due to COVID restrictions however, multiple actors could not be shot together so each bed and its occupant/s had to be shot individually.
To accomplish this, Jay Topping, Director/DP, and Nick Kelly, Senior Producer, of Eight Productions used the URSA Mini Pro 12K to capture ten shots in 12K, and then remotely worked with The Empire Post to create the final effect. Topping and Kelly were based in Sydney, while The Empire Post was based in Brisbane and using DaVinci Resolve Studio.
Topping and Kelly were faced with having to shoot scenes that would usually require a crane or traditional motion control techniques, however, COVID shooting regulations forced them to work differently.
As Topping explained, "Not being able to have people laying in such close proximity to one another meant we needed to come up with a solution outside of shooting it in camera. We knew a digital approach was needed. The biggest hurdle was seamlessly pulling out from a close up to a full body shot of our talent. We knew resolution would be key in ensuring our image held up from start to finish. In the world of high res cinema cameras, nothing comes close to the resolution of the URSA 12K."
He continued: "The first step was to plan the positions of talent, and then how the sheet would flow between them in the final image. After posing our talent in individual plates, and countless hours of sheet origami, we were able to line each plate up with the next, allowing Empire Post to seamlessly stitch everything together. From there we created the final camera move in post."
The spot starts with a tight shot of a couple happily sleeping on a Koala Mattress. The image slowly pulls out to an overhead shot that includes people on each side of the first couple, all in their own beds. Using the URSA Mini Pro 12K's high resolution, Topping was able to get an incredible amount of information for the entire image. This gave post production the data needed for creating movement in post without losing any resolution, even when digitally zooming from a close up of a much wider 12K frame.
"The fidelity of the URSA 12K was incredible, and miles ahead any other option, which was exactly what we needed. By shooting 12K Blackmagic RAW we also saved a lot of time by pulling our stills directly from the vision, which were going to be the ongoing images used for print and OOH delivery. With each frame being the equivalent of 80 megapixels, it's the closest you'll get to medium format stills from a cinema camera," said Topping.
Shooting in Blackmagic RAW allowed footage to be quickly sent electronically to The Empire Post over the Internet and then brought into seamlessly into DaVinci Resolve Studio to create the plates that were then composited.
Digby Hogan of The Empire Post explained: "12K footage is a whole new world, and there was some nervousness about how hard it would be to work with 12K files. But it was a dream to work in Resolve with Blackmagic RAW footage and the post production workflow was easy.
"We ended up stitching ten 12K plates together to create one big bed. The footage was initially sent through Resolve for an early grade and then back into Resolve after editing. The extra level of detail the 12K gave us was amazing, both with giving us plenty of data to work with to create the movement we needed, but also to get to see all of the details in the texture and every part of the fabric."
The commercial campaign has been running across Australian, New Zealand and select Asian markets, as well as on Koala Furniture's global social media outlets.
Visit www.blackmagicdesign.com