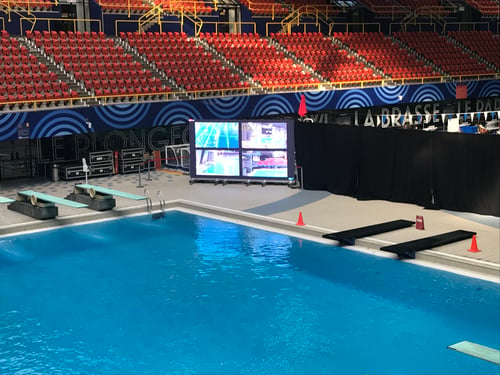 Diving Plongeon Canada (DPC), a not-for-profit organization promoting the growth and awareness of springboard and tower diving across Canada, has been organising virtual meets, powered by Dejero EnGo mobile transmitters and WayPoint receivers, to reduce the impact of the ongoing COVID-19 pandemic on the sport. The live video solution, provided by local systems integrator Integrated Sports Systems (ISS) Inc, enables athletes to compete from different locations simultaneously, while judges score dives from their homes in real-time.
ISS devised u-Judge, a solution built around Dejero's EnGo mobile transmitters and WayPoint receiver that delivers the low latency required to make these competitions as realistic as possible for the athletes. The 'Virtual Nations Challenge', held in early April, was a transcontinental competition between the top divers of Great Britain and Canada, each competing in their own pools on either side of the Atlantic Ocean.
"During the COVID-19 downtime, Integrated Sports researched creative ways to build a virtual competition that would allow athletes to not only dive in real-time, but to replicate the actual feeling of a live competition against others with immediate scores from judges," said Jeff Feeney, director of events and communications at DPC.
"Low latency is crucial to the sport of diving, and Dejero was the obvious technology provider to make live viewing and judging possible. The Dejero workflow provides the simplicity of receiving high-quality live video, producing a stream and switching right then and there. This technology is going to impact the way we handle national level training camps and competitions going forward, saving us time and travel costs, even beyond COVID-19."
DPC successfully tested the solution in a national competition involving pools in Montreal, Saskatoon, Victoria and Toronto, a one-man production team in Thunder Bay, Ontario, a celebrity announcer in Vancouver, a judge controller in Victoria and international level judges working from home across Canada. The upcoming 'Virtual Nations Challenge' included over 35 athletes, including the very best divers from the Canadian and British national teams, all competing at their respective locations between the London Olympic Pool, the Commonwealth Games Pool in Edinburgh, Scotland, and the Sports Centre at Montreal's Olympic Park in Canada. Divers from Jamaica and South Africa also joined the line up from the UK-based pools they train in. Seven judges across Canada and the UK submitted their scores as the competition happened.
In Montreal, DPC also displayed the live production feeds from the EnGo mobile transmitters at each venue onto a large poolside video wall to deeper immerse the athletes into the action, allowing the Canadian team to watch their competitors perform in real-time.
The multi-location event was streamed to Vimeo, available through DPC's website. The production studio in Thunder Bay centralised the live streams received from three Dejero EnGo mobile transmitters at the poolside locations and delivered them via a Dejero WayPoint receiver, with less than a one second delay, to international-level judges watching from around the world, via a proprietary Integrated Sports platform called u-Judge. At the same time, live streams were provided to the public via Vimeo and recorded for archive.
"With this project, Integrated Sport Systems is really living up to its name, by integrating all the technology pieces to this puzzle to bring DPC's ambitions to life," said Michael Morris of Integrated Sports.
"There is typically a 20 second delay during the regular streaming of live events, which ruins the experience of diving. Judges like to score a dive every minute, which is why we turned to Dejero to solve this latency problem by showing judges live video of dives via our u-Judge platform, with less than a second delay. Currently, we can stream from up to four different pools simultaneously, but with the help of Dejero, we have our eyes set on more feeds, with the potential to virtualise future competitions including more countries and more competitors."
With travel restrictions and quarantine rules still in place, it may be impossible for athletes to travel in and out of countries to participate in upcoming competitions. With the Dejero workflow in place, competitions can continue virtually with more athletes competing from their home pools around the world.
Dejero EnGo is a durable and versatile mobile transmitter that's purpose-built for reliably sending high-quality live video from remote locations. It enables transmission with glass-to-glass latency as low as 0.8 seconds. Dejero WayPoint receivers reconstruct video transported over multiple IP connections from Dejero transmitters, decode HEVC or AVC, and output to the desired workflow — SMPTE ST 2110, SDI, or MPEG-TS.
Visit www.dejero.com